[Page 2 of 2]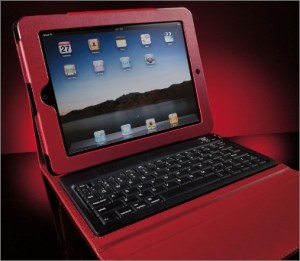 (9) This stylish red portfolio protects an iPad tablet and has a built-in Bluetooth® keyboard for wireless typing anywhere. This iPad Portfolio ($99.95, on sale for $79.99) also has a stand that positions the tablet for easy typing as well as for watching movies or reading.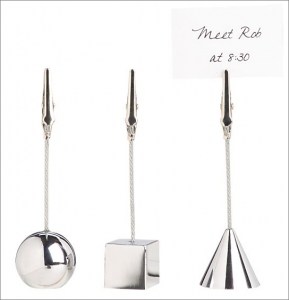 (10) These fun geometric Shiny Memo Clips ($5.85, set of three) are made with weighted aluminum bases to hold important messages, cards, and photos.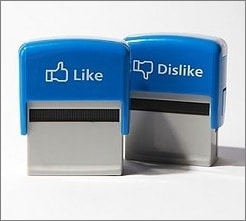 (11) These make me smile. These Like and Dislike Stamps ($14, set of two) from Urban Outfitters are a fun way to share our two most basic sentiments,"like" and "dislike."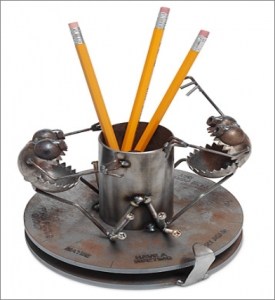 (12) A special gift for that special person! This Decision Maker ($90) by Artist Fred Conlon is a fun way to make a decision on those days when no clear decision comes to mind. Just spin the wheel of this recycled revolving desk decision maker to pick one of eight featured "executive decisions" including "Have A Meeting," "Take Personal Day," and "Form Focus Group."
Check out this Mindful Shopper post with more fun creations by Fred Conlon: Making Your Garden Magical with Metal and Mayhem.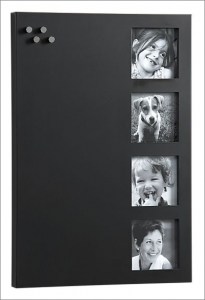 (13) This clever Magnetic Memo Board ($39.95, currently not available) comes with an erasable chalkboard surface. It can be displayed in a vertical or horizontal position and even displays favorite photos.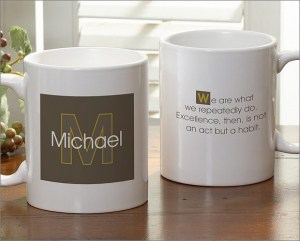 (14) These great Personalized Coffee Mugs ($12.95 each) can be customized with your choice of 4 accent colors on a brown background with a featured name and single initial in the center. On the reverse side, you can personalize it with any quote of your choice. Choose from 34 popular quotes or write your own!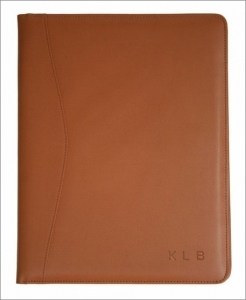 (15) This ultra-bonded Personalized Leather Portfolio ($50.95) helps keep paper handy at all times. This portfolio comes in five great colors and features an ID window, business card pocket, and an additional pocket for important papers. Personalize this portfolio with up to three initials to make this gift even more distinctive.
(16) This cool Oversized Rustic Paper Clip ($19) is a modern twist to an old classic. It is beautifully hand-crafted of recycled materials and perfect for holding important files.
Membership for a professional organization.
Reimbursement for training programs in technology, administrative, and management skills.
Registration for job-related conferences, seminars, and continuing education workshops

Thank you for dropping by The Mindful Shopper! I absolutely LOVE it when you stop by! I hope you enjoyed my post all about Gifts for Administrative Professionals Day!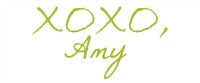 FOLLOW ME:
FACEBOOK | PINTEREST | TWITTER
FREE NEWSLETTER: