[Page 2 of 2]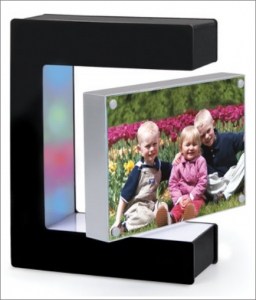 (12) Magnets inside this Hovering Picture Frame ($69.95) create a magnetic field that suspends photographs in midair. The dual-sided acrylic case holds two 5″ x 3 1/2″ photographs and rotates 360º. A gentle push of the picture case will cause it to spin in midair, creating a two-photograph slide show. Blue, green, and red lights inside the frame cast a subtle glow onto the picture.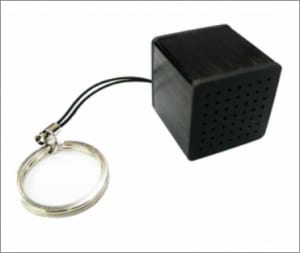 (13) This Mini Keychain Speaker ($19.99) is the perfect size to carry anywhere. It comes with a headphone jack so that it can be used with virtually any MP3 player or mobile phone so you can listen to your music without headphones.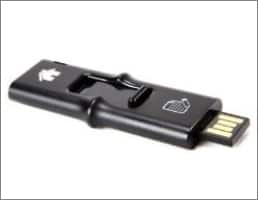 (14) The Quirky Split Stick ($30, on sale for $18.21) is a double-sided USB drive, designed to keep your work files separate from your personal files. With the Split Stick, you can enforce the digital divide between work and home, hers and his, or whatever else you choose to separate.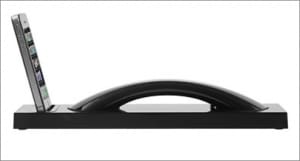 (15) This Moshi Moshi Wireless Handset and Docking System ($150) envisioned by French designer David Turpin, is a contemporary styled Bluetooth handset that is modeled after the classic telephone receiver. This high quality speaker and microphone lets you pair and answer calls on two different Bluetooth devices as well as on your computer (if your computer has Bluetooth capabilities). This system has an iPhone charger built into the base allowing you to keep your device charged even as you use it to utilize all of the other functions on your mobile device mid-conversation, making planning, emailing, and browsing the web easier than ever.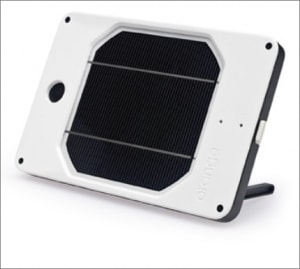 (16) JOOS Orange ($149) allows you to recharge smart and regular phones, an iPad, MP3 players, cameras, game devices, and more.  It is portable, durable, and waterproof; and reliably delivers power where and when you need it. The JOOS Orange works in real-world light conditions (low light, in the shade, and even light rain) and includes charging cables. It is one of the most powerful and durable portable solar chargers you can buy.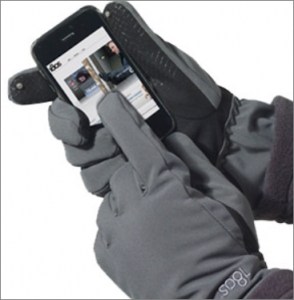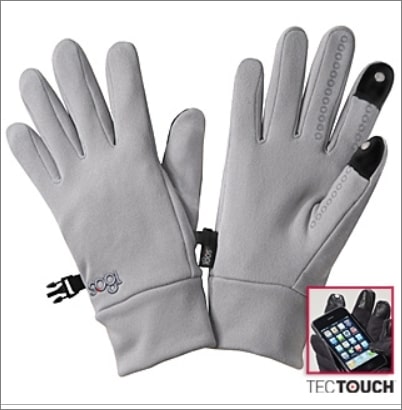 (17) The 180s Tech Gloves for men and women come in various styles and colors. They feature Tech Touch Pods on the index finger and thumb to allow you to operate your iPod, iPhone, or other touch screen device without removing your gloves. AWESOME! Featured on the left is the Urban Tech Gloves for Men ($45, other gloves range $25-$65) and on the right the Performer Tech Gloves for Women in Gray ($25, other gloves range $25-$80).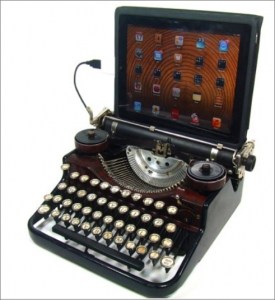 (18) What a unique gift! This antique typewriter has been modified to work as a USB Keyboard for a PC, Mac, or even an iPad. It is a beautiful and fully functional computer keyboard. The USB Typewriter ($799), designed by Jack Zylkin, can type all letters, numerals, and punctuation marks. Many non-standard keys, such as F1-F12, esc, ctrl, and so on are available with a special toggle key. This stand-out piece of art also still writes beautifully on paper. Such a beautiful, functional, and unique addition to your home or office.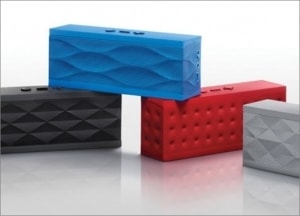 (19) JAMBOX delivers stunning audio in a portable, compact wireless speaker with an output capacity of 85 decibels that fills even the largest rooms. JAMBOX ($199.99) gives you the freedom to bring pristine wireless audio wherever you want. With JAMBOX, you can also enjoy streaming music, podcasts, and sporting events while using your phone to do other things like email, post to Facebook, or browse the web. JAMBOX also has a powerful, built-in microphone for clean-sounding conference calls anywhere.
(20) The Eye-Fi Memory Cards (4GB card $44.99 or *8GB card $106.99) not only work like your regular SDHC memory card, allowing you to store photos and video, but can also instantly send full resolution photos & videos wirelessly and directly to your smartphone, tablet, or laptop. You can also choose to have your data automatically organized on you choice of 25 websites; including Flickr, Facebook, Picasa, and more.
*For those of you in the Twin Cities, head on over to my favorite camera and video store, National Camera Exchange. They carry the 8GB card for $99.99.  Great service, multiple locations, and no shipping costs!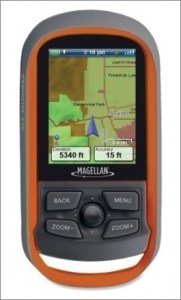 (21) This waterproof Magellan eXplorist 310 GPS ($199.95, on sale for $159.93) provides high-sensitivity GPS reception and accurate core navigation to help you find your way with ease. It includes a World Edition map with complete roads in the U.S., Canada, Western Europe, and Australia. Paperless geocaching lets you download, view, search, and filter geocache information such as name, location, description, size, difficulty, terrain, and recent notes.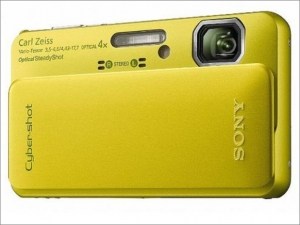 (22) The Sony Cyber-shot® TX10 ($390) has so many great features: compact size; great image quality; touch screen; great colors; and more!  It is waterproof, shockproof, dust proof, and can even withstand extreme weather conditions (operable in temperatures from 14 to 104 degrees Fahrenheit).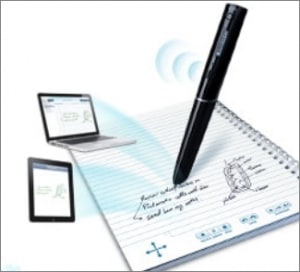 (23) This is fabulous! Take the stress out of tests and meetings with a Livescribe Echo™ Smartpen (starting at $99.95) which records everything you hear, say, AND write; all while linking your audio recordings to your notes. Quickly replay audio from your Livescribe paper, a computer, or a mobile device – all with a simple tap on your handwritten notes. It's never been easier to take notes and stay organized.

Thank you for dropping by The Mindful Shopper! I absolutely LOVE it when you stop by! I hope you enjoyed my post all about Gadgets and Gear Galore!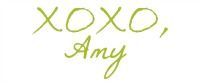 FOLLOW ME:
FACEBOOK | PINTEREST | TWITTER
FREE NEWSLETTER: